Lili Kathryn Linda Whitaker
WELCOME TO LILI'S PAD!!!

Everything's Coming Up Lili. . .

Welcome to Lili's Pad! A quick note about Lili... she is a MIRACLE! Not expected to live at birth, diagnosed with ESRD (End Stage Renal Disease), on dialysis for 2 months, miraculously off of dialysis and had her kidney transplant on June 7, 2004 - donated by her mother.

Peace and Love to you and thanks for visiting our site from her proud Mommy, Julie Newland!
Lili started Kindergarten!!!
Lili was VERY excited to start school this September. She couldn't wait to ride the bus. Unfortunately, she tripped on her way up the stairs and this was the photo from the window on her way to school. I met her at the school and she ended up having a great first day of school!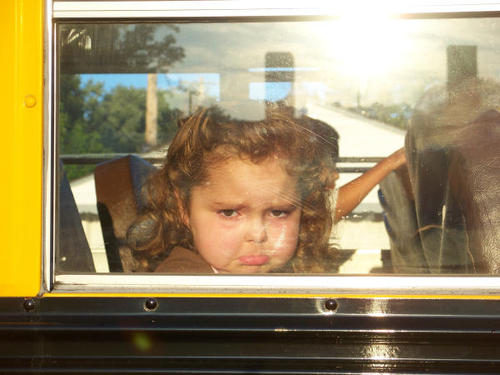 June 7, 2008: Transplant Update
It's been 4 years today and Lili's kidney is still working fabulously! She is starting to eat and we might be getting her tube out soon. Yippies for Kidneys!
The following is a small list of the wonderful people who've helped us along the way! There are soooo many more to thank!
The whole team at Mott has been so wonderful! We look forward to seeing them and visiting with them we go for clinic. Just a few names I would like to mention...
Tammy Kelly our PD nurse
Joan our Dietician
Dr. Kershaw (Pre and Post Transplant Nephrologist)
Dr. Thomas (Post Transplant Nephrologist)
Dr. Lin
Dr. Rasheed (Rrrrarrr!)
Dr. Smoyer (Welcome to Holland)
Dr. Brophy
Amy Jo Herndon
Maki White
ALL of the nurses at 6 Mott!!! (We miss you!)
Jennifer and Laura the Surg nurses (that damn G-tube and GJ-tube!)
Cecelia at Mott
All of the volunteers
Jerry in the Activities Room
The nurses aids (Lili misses you, Linda!)
I certainly don't want to forget Dr. Roth, his staff and the staff at Sparrow!
Kim, Lili's Speech Therapist at Sparrow
Ann at Art Unlimited in Okemos
Reverend Tim Tuthill
Irene and Cecila, Lili's home nurses in Okemos
Angel, Lili's daycare provider in DeWitt
Sheron, Lili's home nurse in Warren
Pam, Lili's daycare provider in Ypsilanti
Karen, Lili's sitter
Cathy, Lili's sitter
Crystal, Lili's sitter
Leigh, Lili's sitter
Tara, Lili's 1st home nurse in Ypsilanti
Norma, Lili's 2nd home nurse in Ypsilanti
Margaret, Lili's 3rd home nurse in Ypsilanti
Jodi, Lili's 1st Speech Therapist at U of M
Dale, Lili's 2nd ST at U of M
Maria, Lili's 3rd ST at U of M
Dr. Maghee (Lili's Transplant Surgeon)
Dr. Punch (My Transplant Surgeon)
Oh, and my wonderful therapist, Bob Eubanks (I swear that's his name!) and all of the countless people who have entered our lives because of this...
Our family and friends, without your support I don't know how I would've made it this far!
Peace and Love to you all!!!
Got a Picture?
If you have any digital photos of Lili or of any of her friends/cousins/aunts/uncles/etc., please send them and we'll post them on the Photos page.